Wreck diving in Andalusia in Torrox
An historic diving spot !
---
The wreck of the El Delfin ship in Torrox
Wreck diving in Andalusia in Torrox should be a rather special experience but one that almost anyone can do.
This place is oddly little known but quite extraordinary.
This one is precisely in the municipality of Torrox, in Axarquia very close from Nerja.
This is the wreck of the El Delfin boat.
It can be approached easily (by boat, paddle, sea kayak, etc.) since the wreck is about 300 or 400 meters from the beach.
A diving center offers to discover this incredible spot by snorkeling or diving. See on the following links :
Snorkeling in Torrox and Nerja
The story of the El Delfin ship
We are in 1937, in the midst of the civil war in Spain, the republican government chartered a boat 'El Delfin' (originally a Northern Irish boat) to bring food to the Republicans who were besieged in Malaga, by Franco's troops. .
The boat is then filled with flour, cod (bacalao) and oil and popular legend say that there was rice in this boat.
This boat will be sunk 40km from Malaga, in Torrox , by an Italian submarine, the Ciro Menotti.
It will be the last boat, in 1937, which will try to bring food to the Republicans. Shortly after, the "Debanda" will occur: around 150,000 inhabitants of Malaga and its province will flee on foot towards the coasts of the Provinces of Granada and Almeria.
Observing the wreckage of the boat while diving
El Delfin, this 80-meter-long steamboat, has been in the same place since 1937. It has since become a diving spot.
But anyone can observe the wreck without diving .
There is very little depth. The wreckage is 5.30 meters deep.
A mask and a snorkel are enough to be able to observe it from the surface.
For those who dive, the wreck has become a sanctuary for fish, sponges, anemones, and plumeros del mar .
The name of Calaceite in Torrox
Legend has it that this cove (Cala) was called Calaceite (cove of oil) following the sinking of the boat and the olive oil that spread over the water to the shore…. But research has shown that this name already existed in the Al-Andalus era.
The rice boat in Andalucia
A final anecdote, it is since the sinking of this boat that all the so-called humanitarian boats that sink at sea are called the rice boats (barco del arroz) .
In Andalusia, a popular expression was born elsewhere: "to be more lost than a rice boat" ( Estar mas perdido que un barco de arroz ).
( NB: I thank the unknown author of the photo … )
---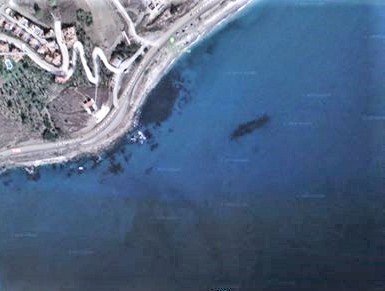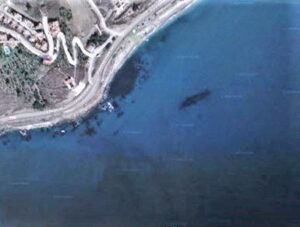 ---
---
Organize your trip to authentic Andalucia in Costa del Sol ?
---
See : all activities and experiences
---
Want to pursue the trip to Andalucia ?
Each month ideas and discoveries