Treasure cave in Rincon de la Victoria
A natural wonder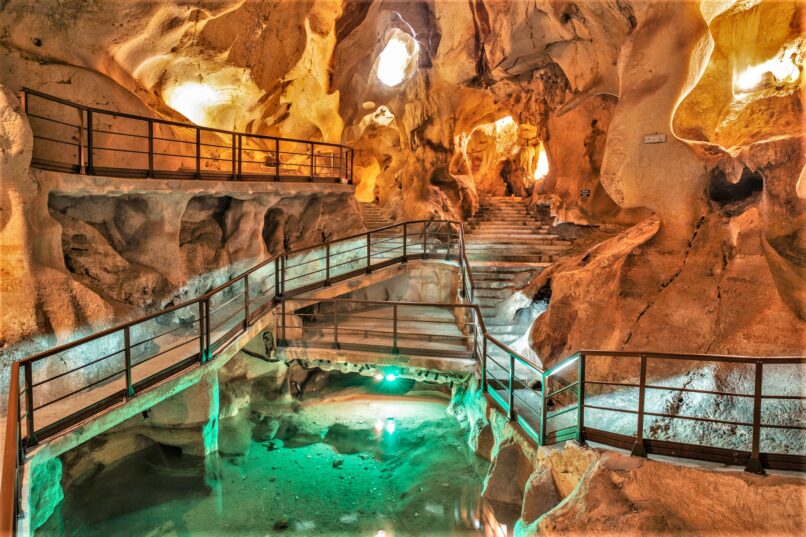 ---
A wonderful cave in Rincon de la Victoria
---
The Treasure Cave in Rincon de la Victoria is a curiosity of nature that I invite you to discover.
---
There is few opportunity to be able to discover this type of cave. Indeed, it is a cave of marine origin. the cave of the treasure is one of only three known to date in the world and it is the only one in all of Europe. Its galleries were sculpted by the swell and the marine currents.
---
Legend and history of the treasure cave
---
The real name of this cave is the " Cueva del Higueron ". However, locally everyone calls it the "  Cueva del Tesoro "  .
Axarquia, like all the rest of Andalucia, is a land with an incredible number of legends. These legends have at times given rise to quite funny true stories.
---
Legend has it that this cave houses the treasure of the five Almoravid kings. The Almoravids were Saharan Berbers who dominated in the 12th and 13th centuries during the Al-Andalus period.
The last king Tesufín ibn Ali would have had this Arab treasure hidden in this cave and the treasure would then have fallen into oblivion.
---
As everywhere in Andalucia, there have been many seekers of Arab treasures that have never been found.
---
Among the most famous seekers (the one who in spite of giving him the nickname of Cueva del Tesoro), there is the Swiss who, in the XIXth century, Antonio de la Nari, will buy this cave. He will search for this famous treasure for 30 years until his death by accident. He died in the cave, during his research, wanting to open a new gallery with dynamite in 1847.
---
The halls of the Treasure Cave in Rincon de la Victoria
---
Noctiluca hall: Noctiluca is a Mediterranean goddess who was worshipped in ancient times. She is the goddess of fertility, life and death. Manuel Laza located the Phoenician sanctuary of Noctiluca in this hall after finding a baetylus.
---
Volcano hall: it is called this because it is the deepest hall in the cave and one feels a higher temperature when entering it.
---
The Swiss Well (Pozo del suizo): this hall is named after Antonio de la Nari, who searched for treasure in this cave for 30 years until he died.
---
Marcus Crassus hall: This hall served as a refuge for Marcus Crassus for 8 months in 86 BC to escape the persecutions of Marius and Cinna (facts recorded by Plutarch in "Parallel Lives").
---
Eagle hall : it has this name because a stone looks like an eagle in this room. Marine sediments have been found here, as well as 2 rock paintings (a fish and a horse).
---
There are 2 other rooms: the lakes hall and the Virgin hall.
---
Tickets for the Treasure Cave
---
The town hall of Rincon de la Victoria offers on its web the possibility of: buying entrance tickets online.
---
Another cave to discover in the surroundings
---
There is another fabulous cave to visit in the area.
It is the majestic Nerja cave, which allows you to discover one of the highest columns in the world. It is 33 metres high. Its diameter on the ground is 18 metres (it is located in the Cataclysm Room).
---
NB: photo credit: Rincon de la Victoria town hall
---
---
Information
Price: 4.75 €, over 64 years old or students or between 4 and 14 years old: 2.75 €
Hours: summer: 10:30 a.m. to 1:00 p.m. and from 4:30 p.m. to 7:00 p.m., winter: 10:00 a.m. to 1:00 p.m. and from 3:00 p.m. to 5:00 p.m.