Torre del Mar Fair 2023
---
The Fair of Torre del Mar is held every year in July
---
Here is the essential information about the Fair of Santiago and Santa Ana in Torre del Mar
A few words about Torre del Mar
The dates of the Feria
The 2023 Feria programme
Where is Torre del Mar?
What to do in Torre del Mar?
Find accommodation
Some useful links
---
A few words about Torre del Mar
---
Torre del Mar is the main seaside resort of Axarquia, in the province of Malaga.
---
---
To find out more about Torre del Mar, you can find all the information on the link visit Torre del Mar.
---
Dates of the Feria
---
The Torre del Mar Fair 2023, known as the Feria de Santiago y Santa Ana, will take place from 21 to 26 July.
---
The Fair's programme
---
During the Feria de Torre del Mar, there is a special feature. There is a procession of the Virgen del Carmen, Patron Saint of fishermen. It is special because this procession is by land through Torre de Mar, but it is also by sea.
Not to be missed on 26 July 2023 :
---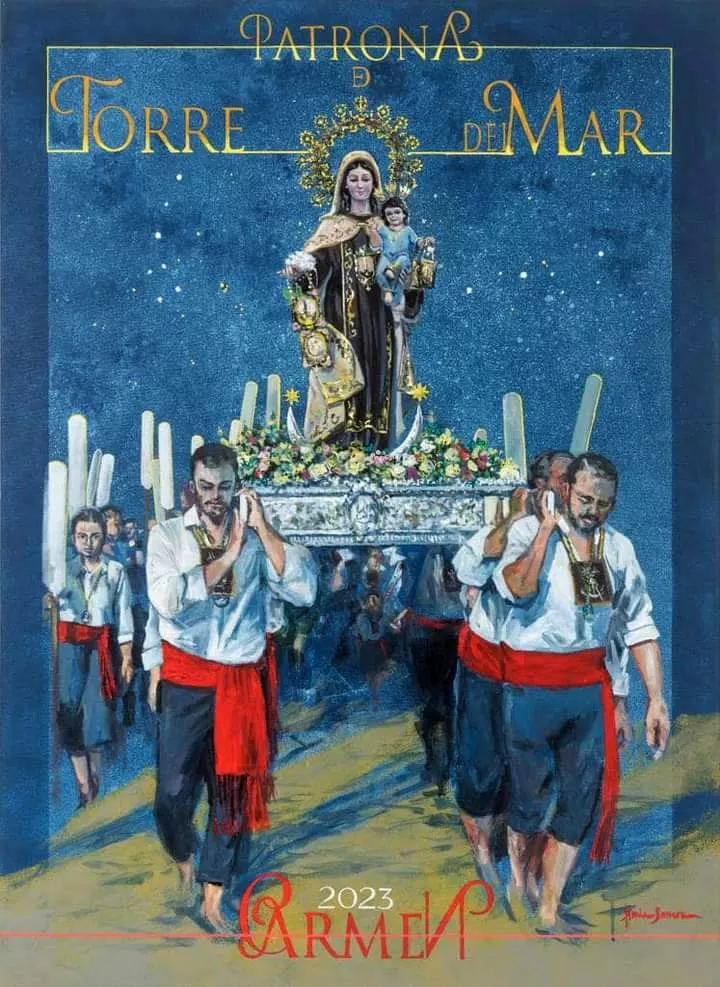 ---
The procession will start on 26 July at 6.30 pm and will continue at sea on a fishing boat at around 11 pm. It is always a magical moment when we all gather on the beach to see the Virgen del Carmen and the dozens and dozens of fishing boats that accompany her.
---
The procession has been declared a Festival of Tourist Interest in Andalucia.
---
NB: At the end of December 2022, the Vatican recognised the Virgen del Carmen, Patron Saint of fishermen, as the Patron Saint of Torre del Mar!
---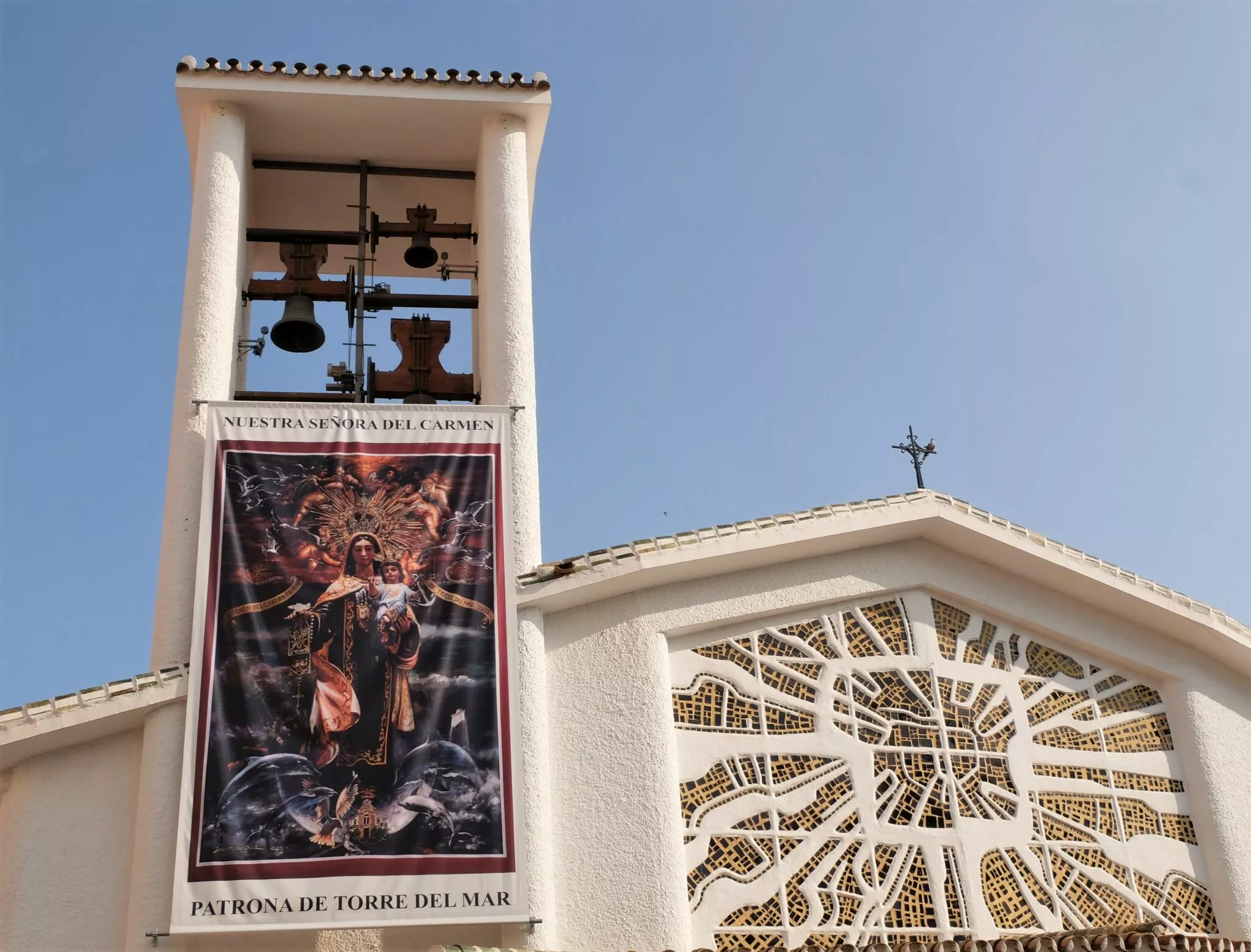 ---
Evening concerts during the Fair 2023
---
---
On the final evening, 26 July, the concerts will be specially dedicated to young people, with some surprise guests!
---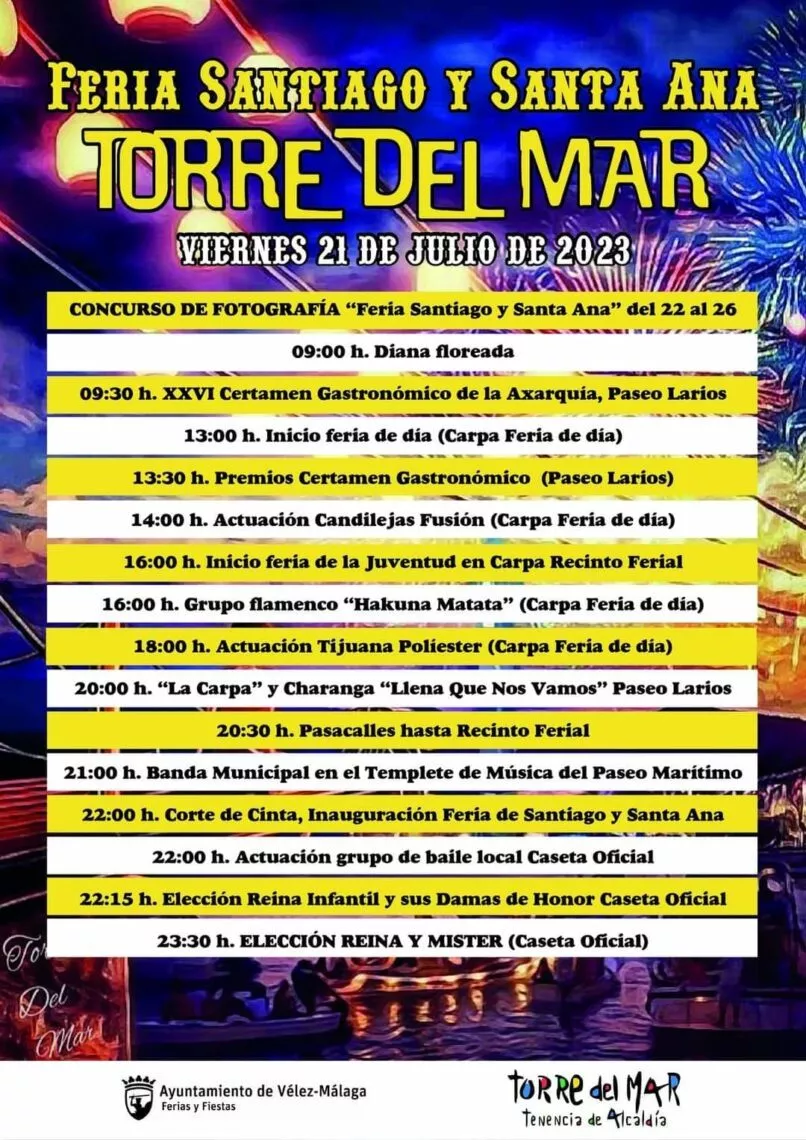 ---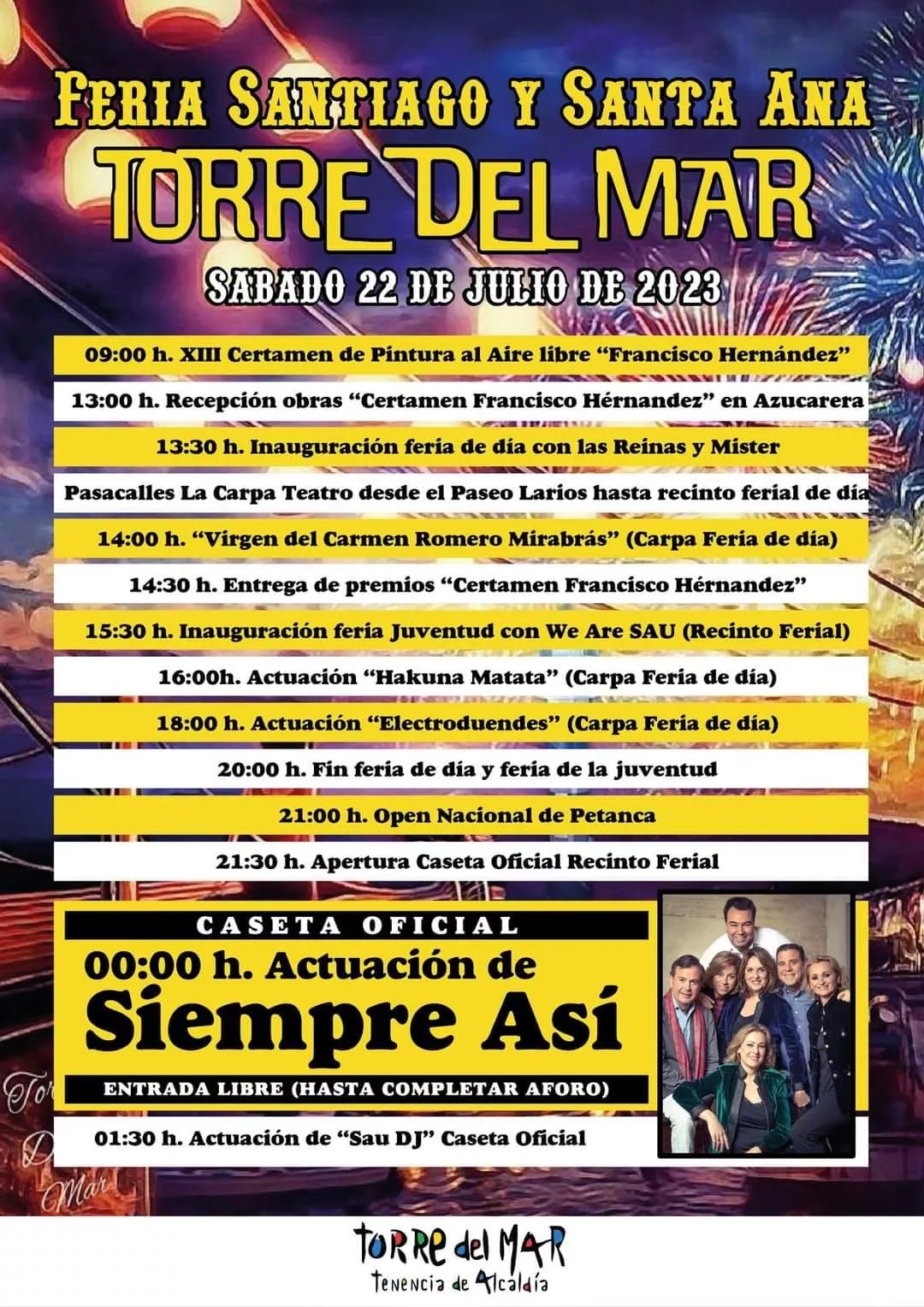 ---
---
---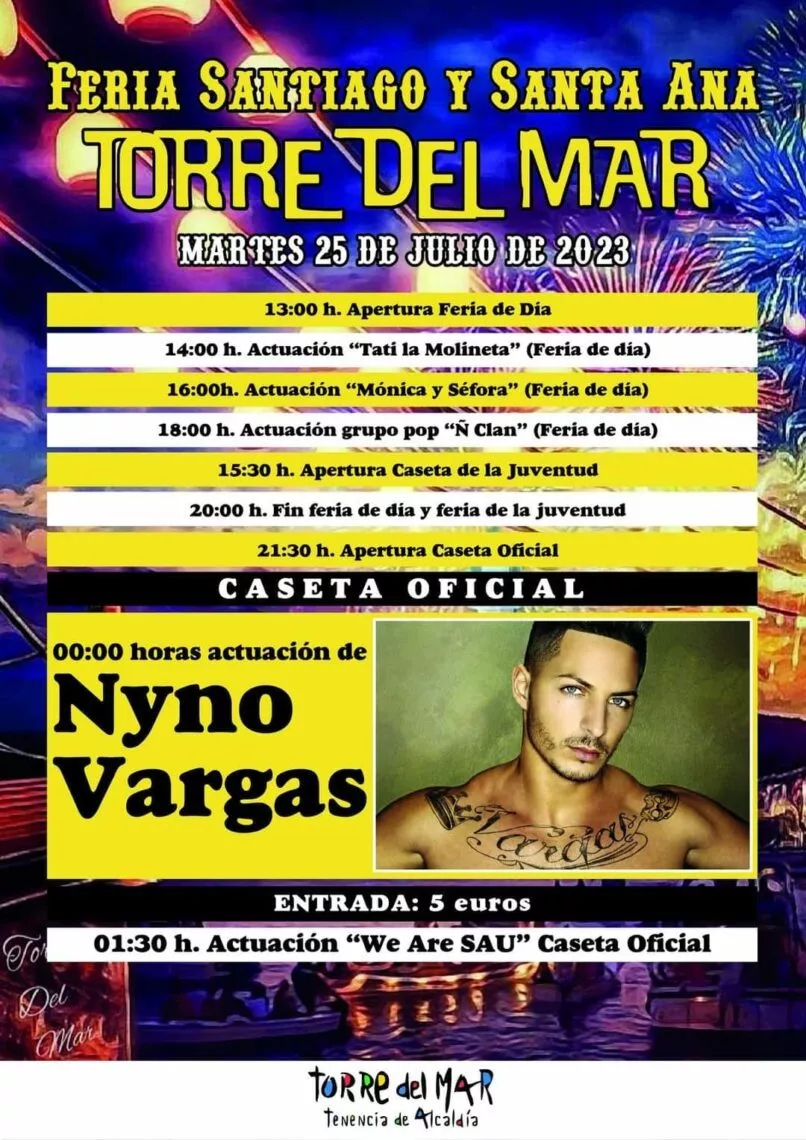 ---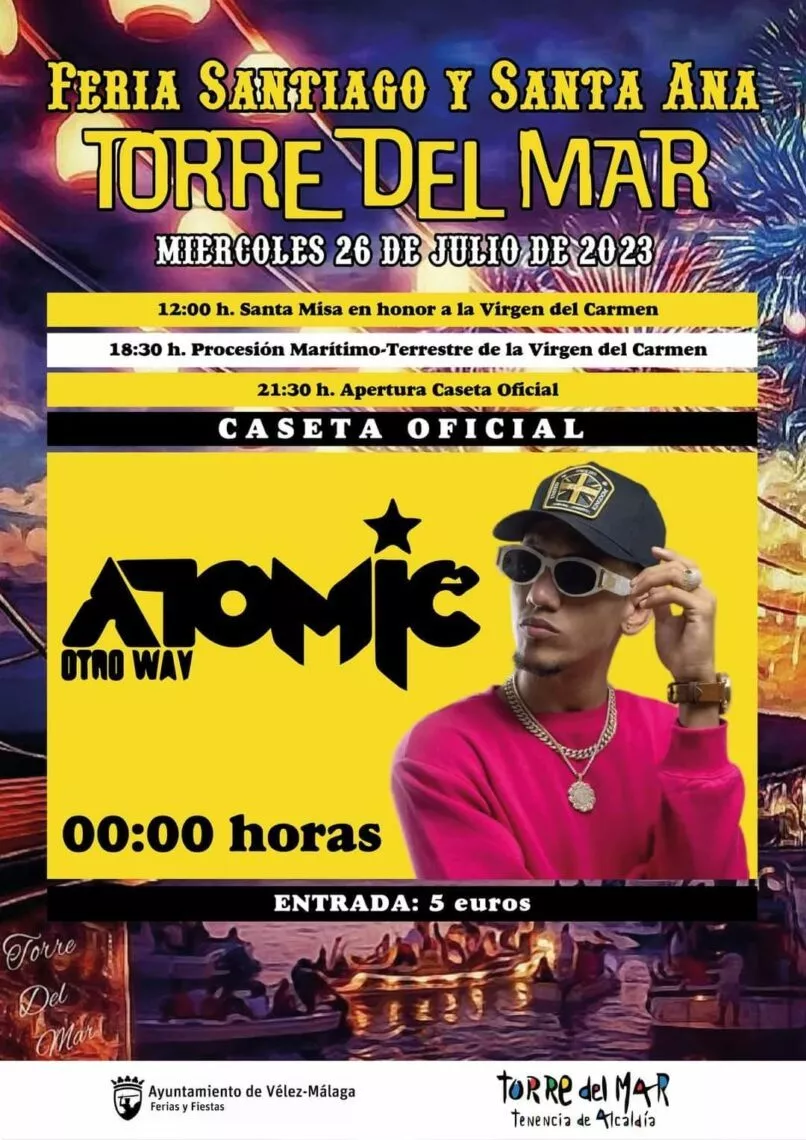 ---
Where is Torre del Mar?
---
---
What to do in Torre del Mar?
---
In the surrounding area you can find a lot of great activities:
---
horse riding, on the beach or in the mountains
scuba diving in Nerja and Torrox
guided tours (villages of Axarquia, Cordoba, Alhambra,…)
via ferrata (Caminito del Rey,…)
hiking (rio Chillar, El Saltillo with the hanging bridge,…)
canyoning (in the rio Verde,…)
astrotourism
snorkeling
visit of caves
---
Access with the following link to the activities to do in Torre del Mar. This link allows you to find all the details of each activity.
---
Booking accommodation
---
Enter the desired dates to find out about availability.
---
---
Some useful links
---
Here is a great car rental agency in Andalusia and more specifically at Malaga airport : book a rental car.
---
Find out all about the most spectacular fair of the year in the province of Málaga: Malaga Fair
---
And finally, here are some other experiences to do around Torre del Mar
---
---
Discover other great places in Andalucia in the Andalucia blog pages.
---
Here is the link to receive our newsletter from the andaluciamia.com blog
---