Muscat and Raisin Tour from Nerja to discover this unique culture
Discover a thousand-year-old culture
This tour on the Ruta de la Pasa (Raisin Route), with a local guide, is dedicated to the discovery of the Moscatel and the famous raisins
---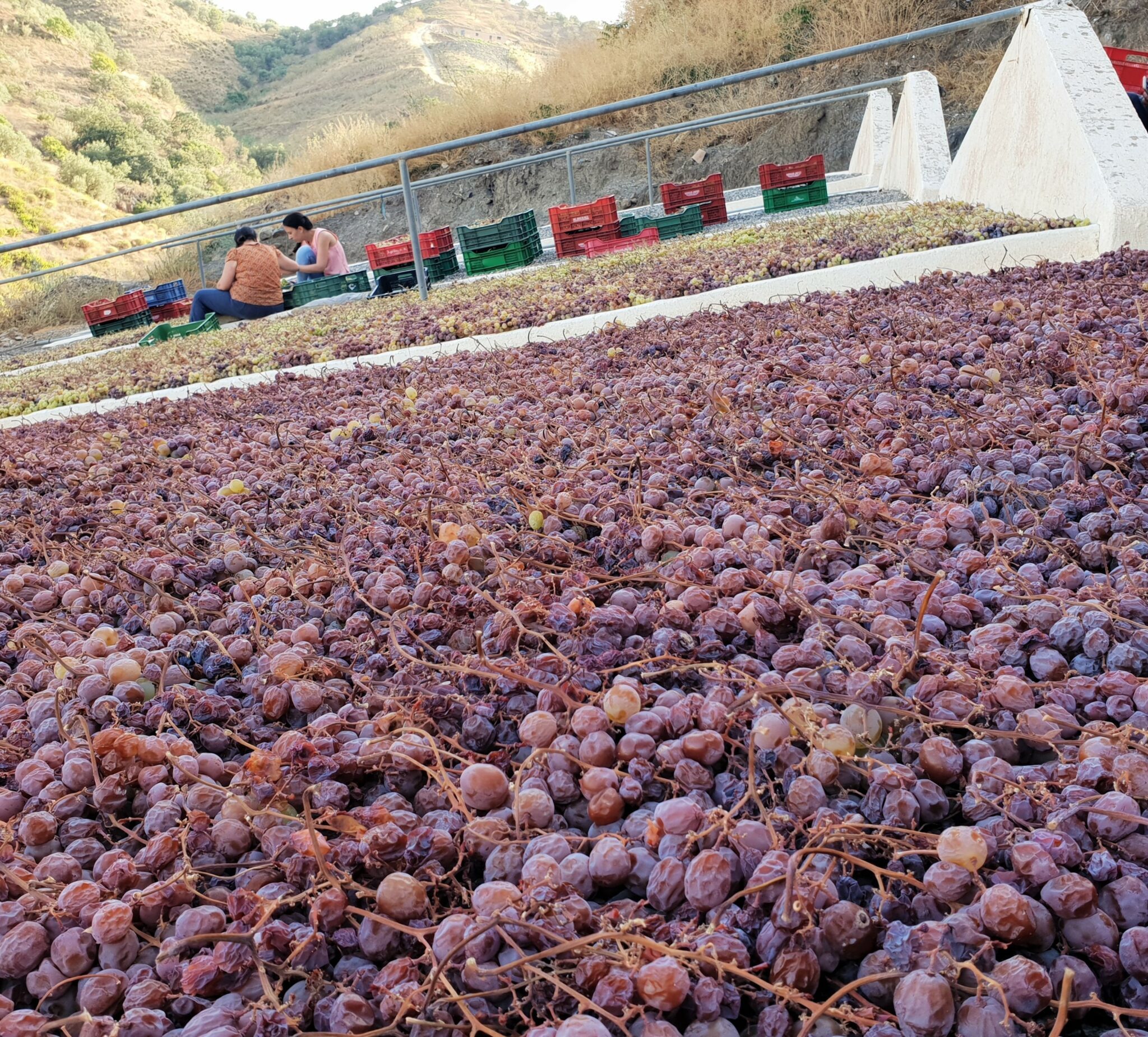 ---
The visit to the Muscatel and raisin route (La Ruta de la Pasa) is offered in semi-private groups (2 to 8 people maximum), departing from Torre del Mar, Torrox and Nerja, from your place of residence.
---
The Ruta de la Pasa will help you discover all the secrets of this ancestral culture, unique in the world.
---
Good to know: this crop was declared by the FAO (UN) in 2017 as GIAHS: Globally Important Agricultural Heritage Systems. Only 7 crops in Europe are recognised as GIAHS.
---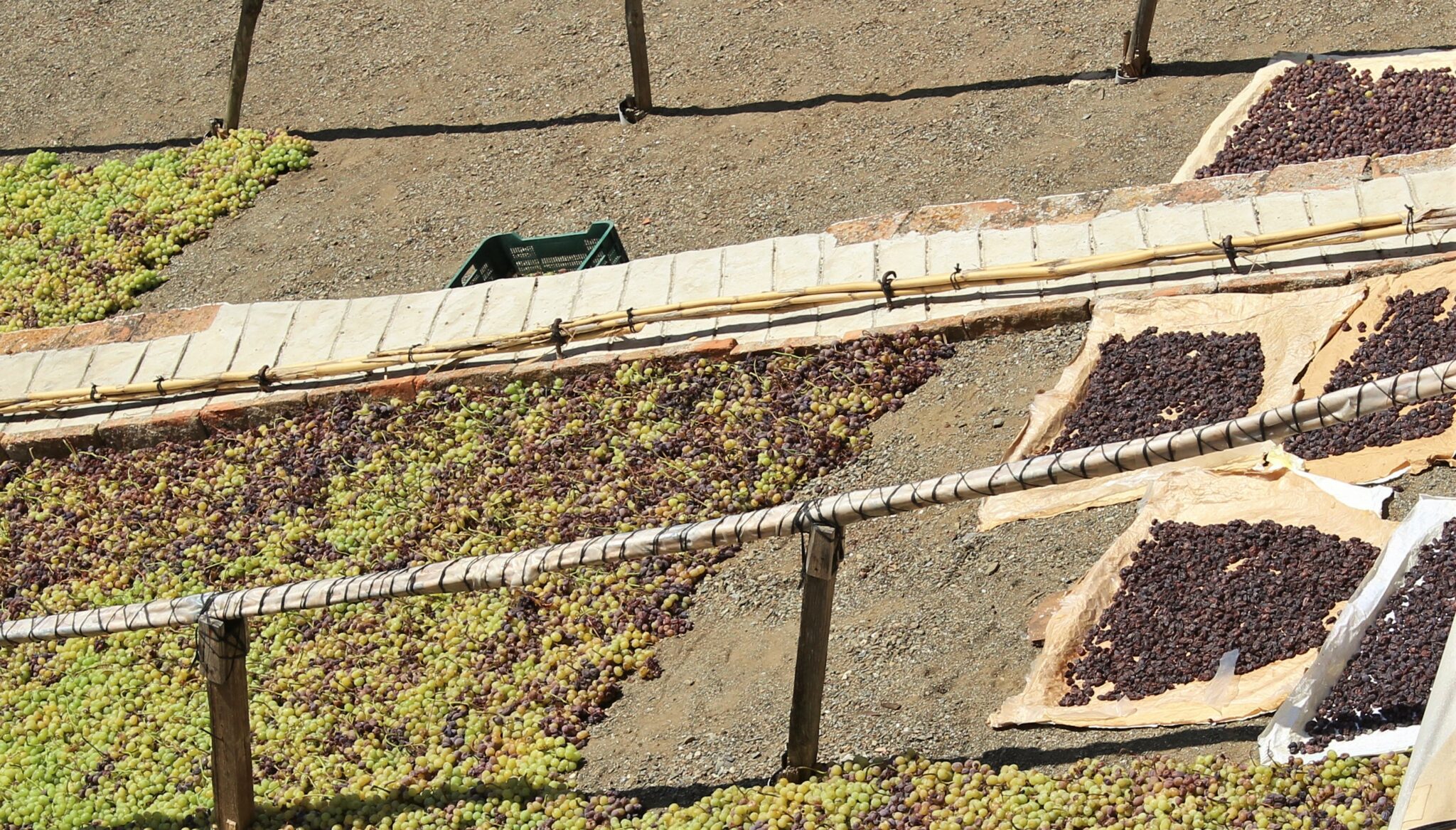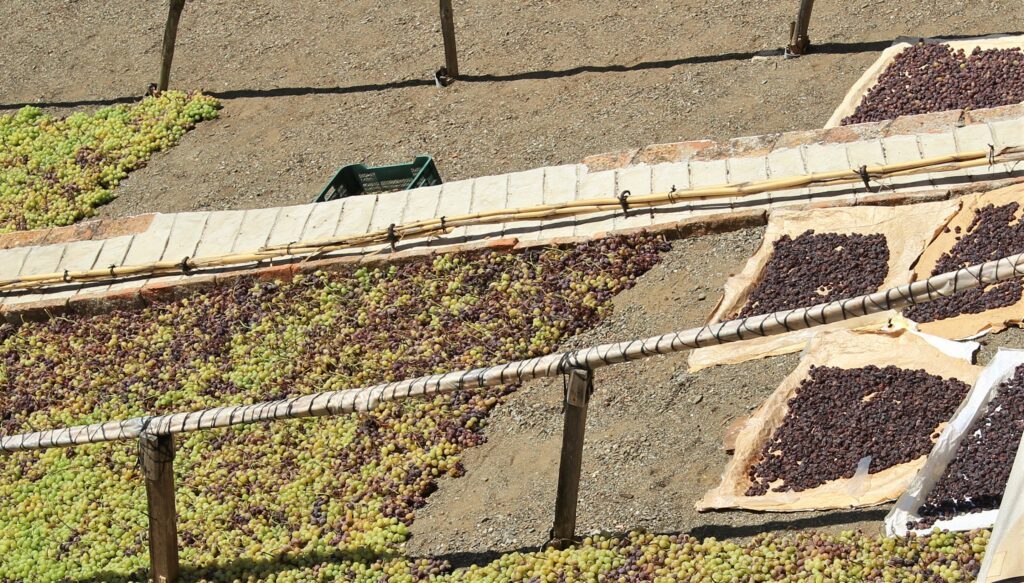 ---
Your local guide, Cipriano, will introduce you to this grape variety: the Muscat of Alexandria, which was brought back from Egypt by the Phoenicians more than 2000 years ago.
---
Here is the programme of the Muscat and Raisin Tour
---
The first stop will be in an Andalusian cortijo
---
We will discover the process of making raisins, with a family that lives from this activity. From this cortijo, you will also have magnificent views of the surrounding countryside. Below is a photo of one of the many families who make a living from this production:
---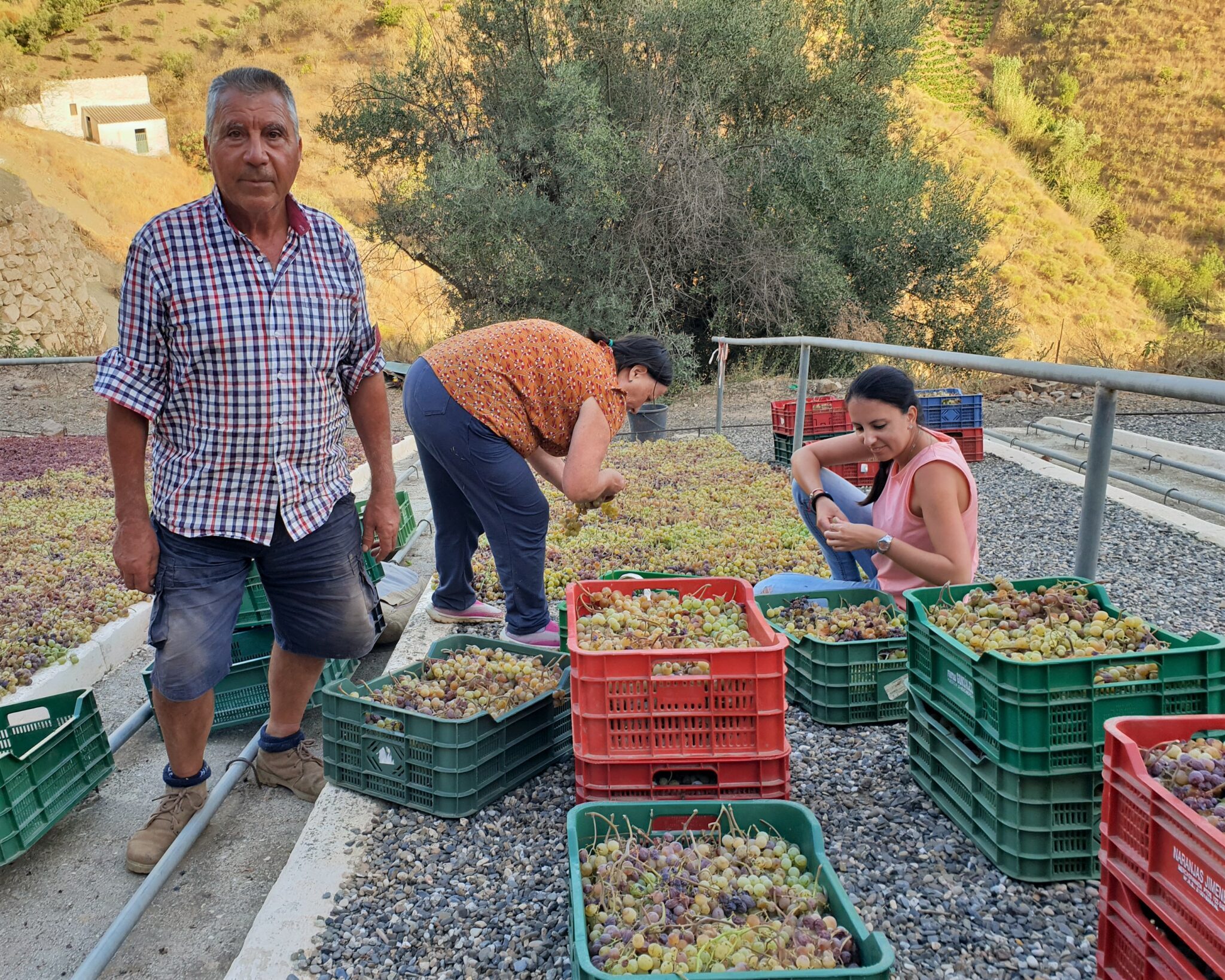 ---
In the cortijo, you will see the whole process from the harvest in the vineyards, to the raisins that you can taste. Note that some wines are also produced after drying the grapes for 15 days.
---
Visit to the village of Almachar
---
This village is known as the capital of Muscat. In this village, we will visit the small raisin museum where we will see the tools, especially old ones, used for the harvesting and production of raisins.
---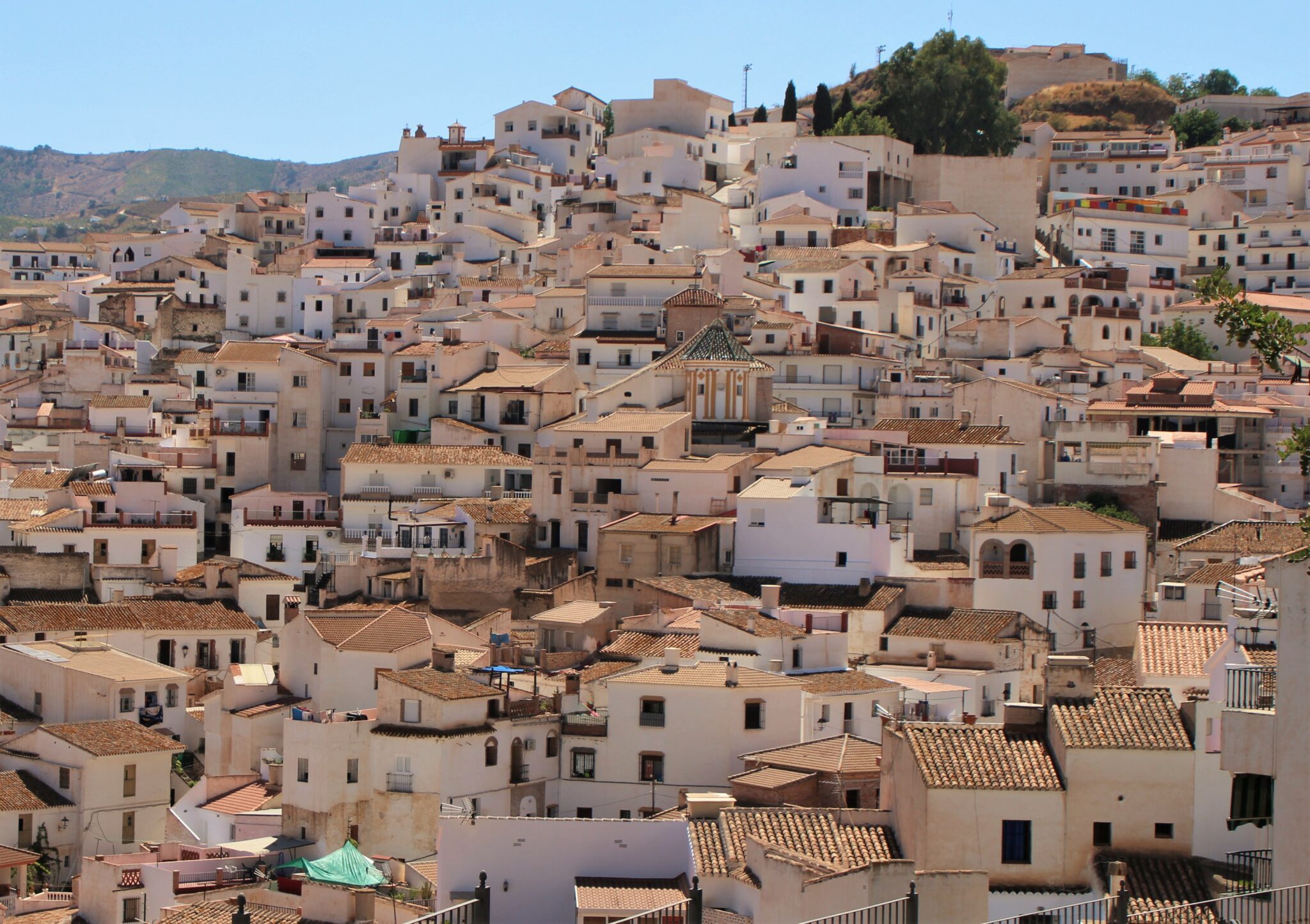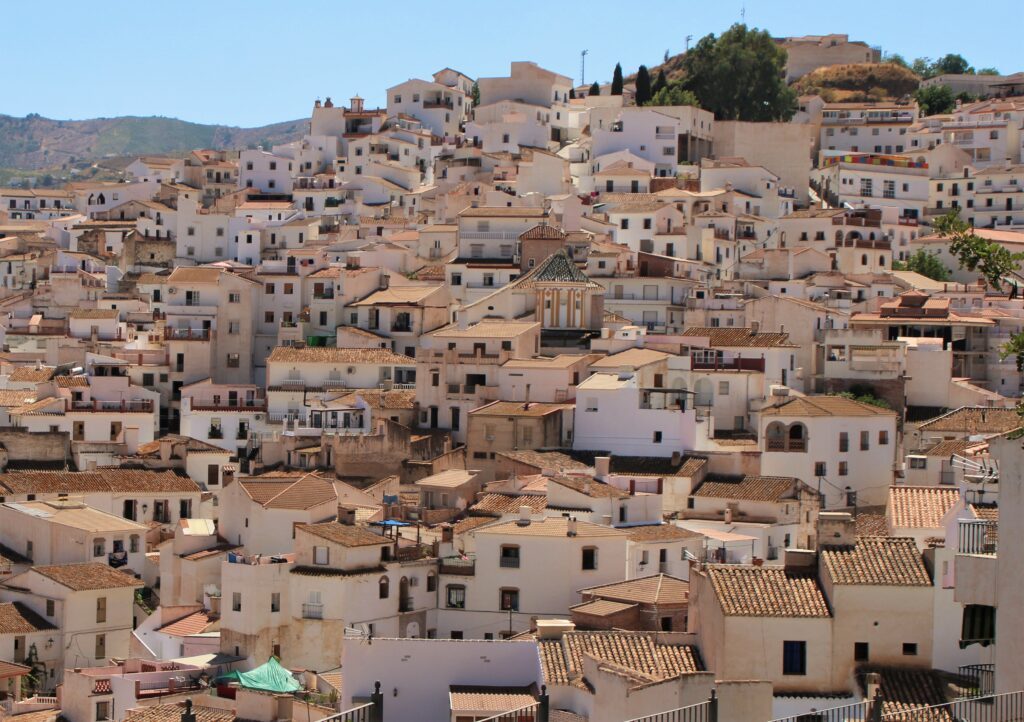 ---
Visit to the white village of El Borge (5km from Almachar)
---
We will take a walk through its typical streets. This village is located in the heart of the Ruta de la Pasa. We will also have lunch in a very good local restaurant which is very emblematic of the history of this village. You will understand on the spot the very particular origin of the place.
---
---
Walk in Moclinejo
---
This village, some ten kilometres away, is renowned for the production of Moscatel wines and vermouths.
---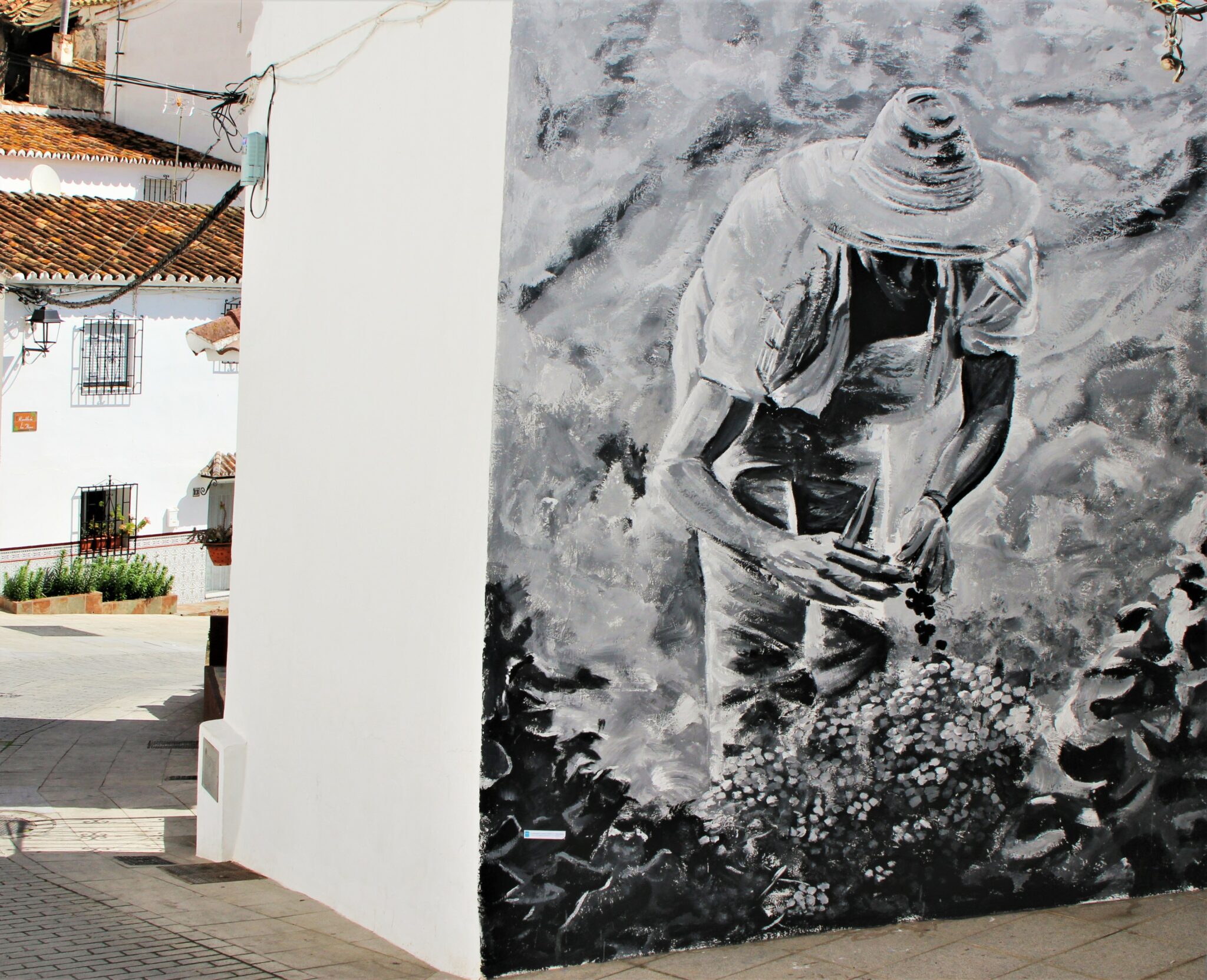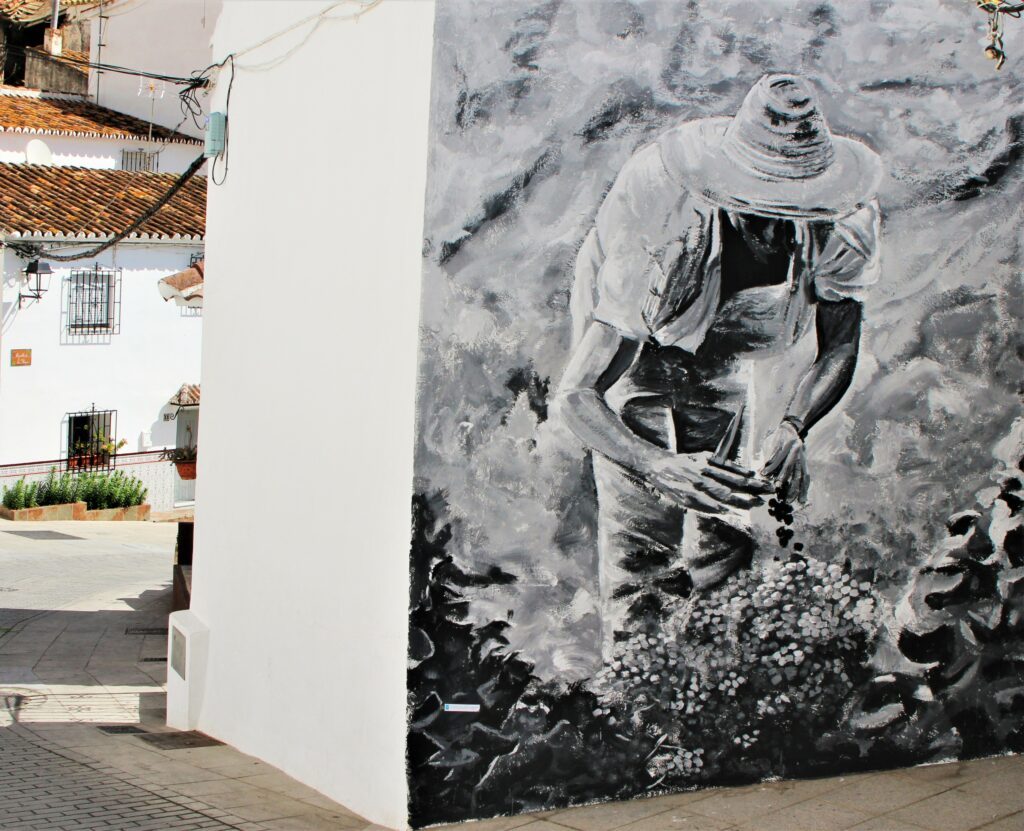 ---
At the end of the day, your guide will drop you off at your accommodation in Torre del Mar, Torrox or Nerja.
Below is a photo of Cipriano, your guide and driver, during a visit to a village on the Ruta de la Pasa:
---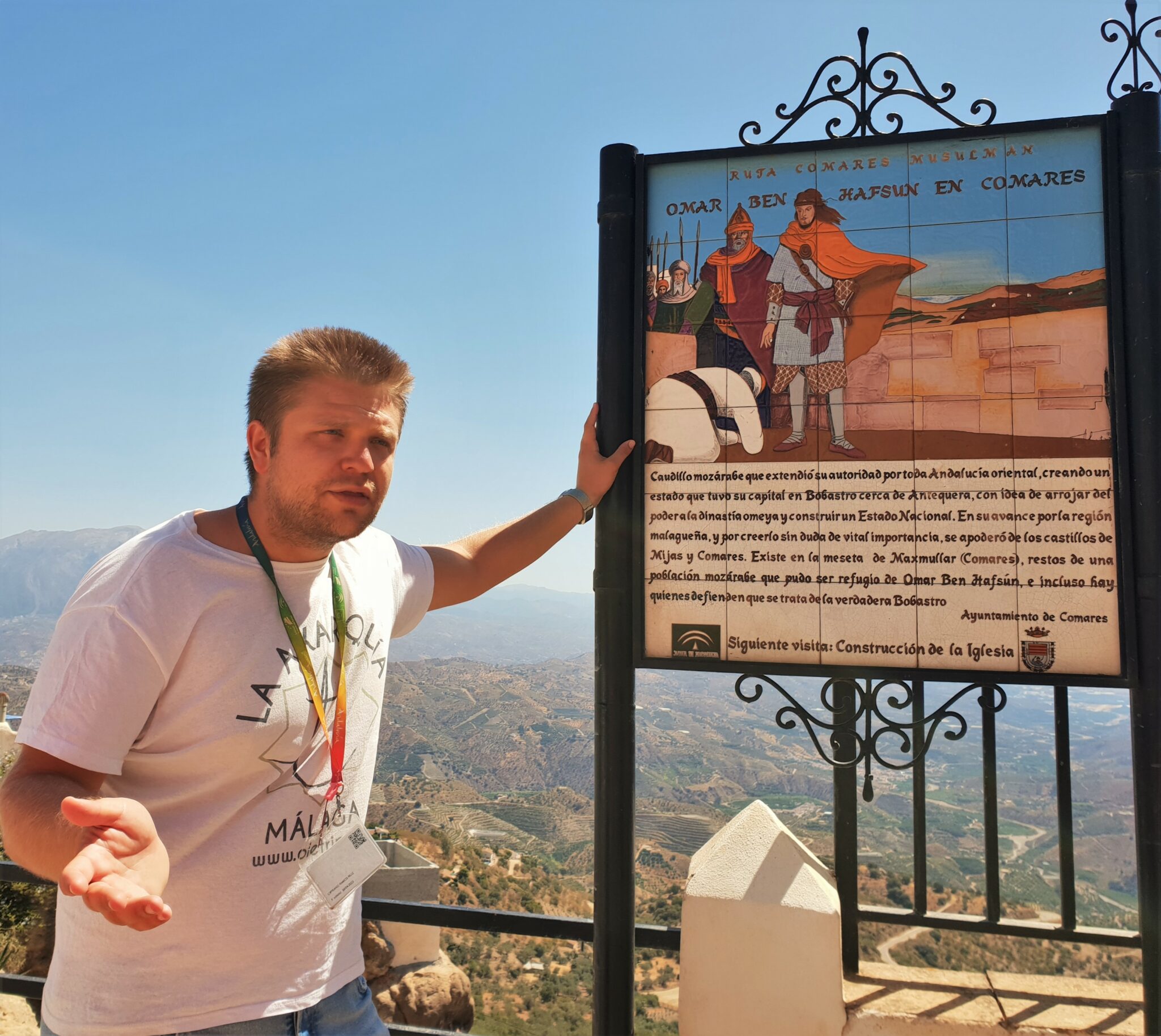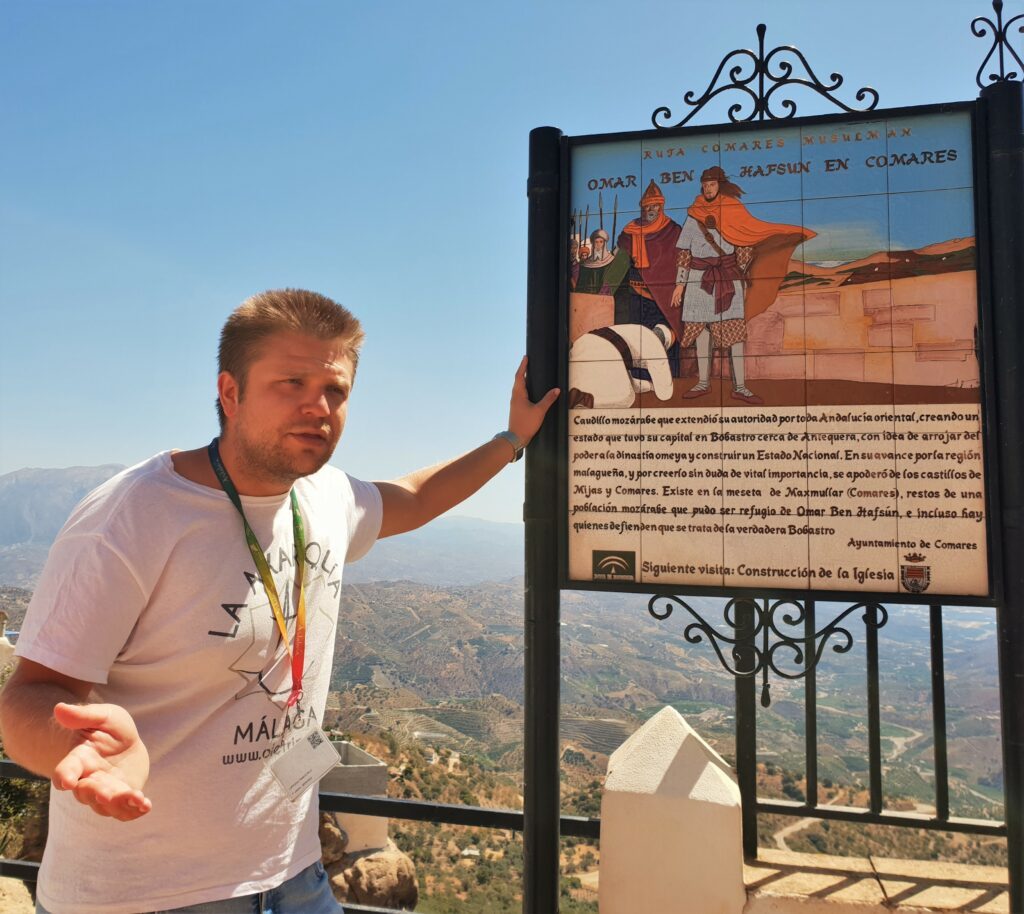 ---
Book The Muscat and Raisin Route
---
By clicking on the following link, you can book online and have access to all the details of this wonderful and very rewarding tour:
---
---
What is included in this excursion from Torre del Mar, Torrox and Nerja:
---
Semi-private group: 2 to 8 people maximum
Times: 08H30 – 16H30
Duration: 8H00 hours
Visit to an Andalusian cortijo
Guided tour of Almachar
Visit to the Museo de la Pasa
Guided tour of El Borge
Guided tour of Moclinejo
Typical lunch: included (drinks not included)
Transport to and from your place of stay: included
Means of transport: Mercedes Vito
Price: €58
---
NB: this guided tour is only available 2 months of the year, during the harvest, from mid-August to mid-October
---
Here are some pictures of the Ruta de la Pasa
---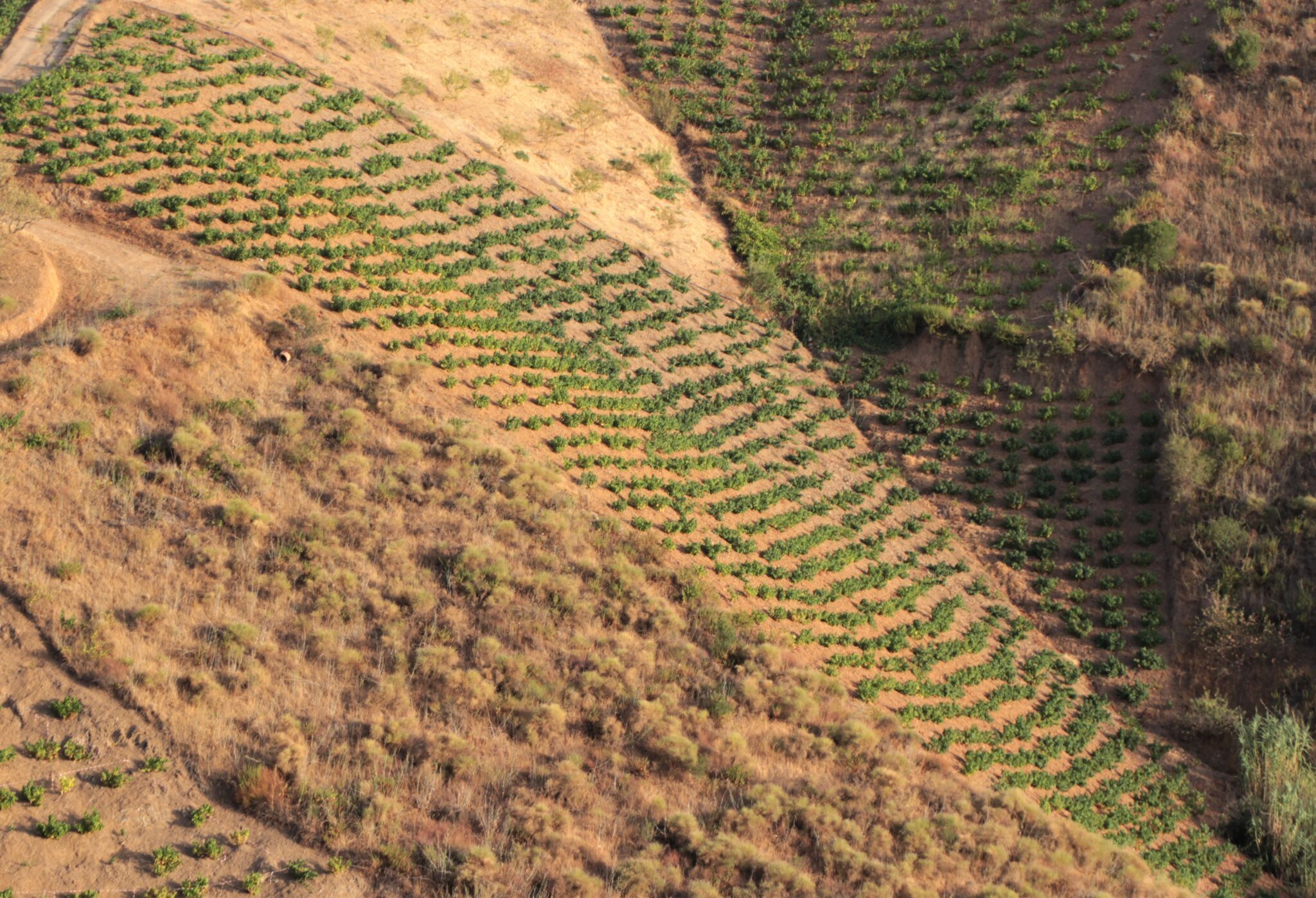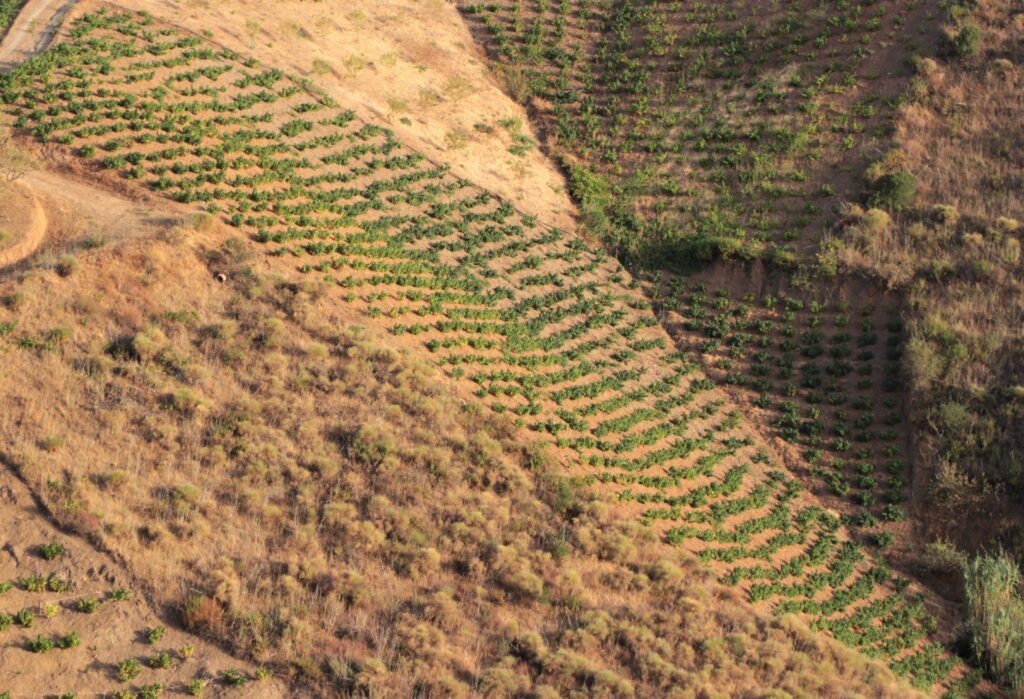 ---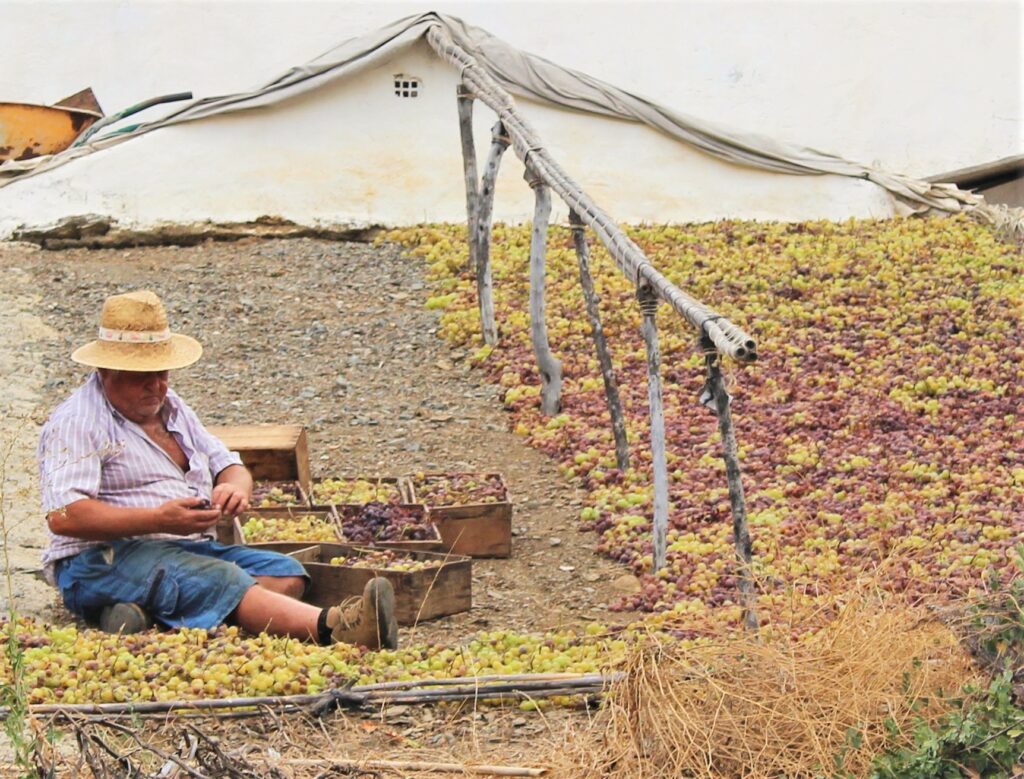 ---